Founded in 2002, XTB has developed a loyal following by focusing on developing the nature of the relationship between broker and trader.  Although a relative newcomer XTB has grown to become one of the largest stock exchange-listed, forex and CFD brokers in the world.
The trading platform is of the highest quality but also easy to use.   Being regulated and authorized by mainstream regulators ensures that the client focus and trading experience are based on solid foundations.  XTB currently operates out of offices in UK, Poland German, France and Turkey which demonstrates its leaning towards a European client base. This shouldn't be taken as a signal that it is in any way parochial as it offers to trade in global markets with spreads as low as 0.1 pips.
XTB offer very competitive pricing; spreads on major currency pairs starting from 0.1 pips being a signal of their intent.
In the forex markets, XTB takes prices from the interbank market price of top-tier banks and whilst the Minimum Spread and Target spread obviously involve some slippage it's reassuring to see that the data on prices achieved is readily available.
Transparency of pricing applies to all the instruments traded but the headline numbers stack up well.   Spreads in Crypto markets are generally being wider than for other instruments but the rates offered by XTB are still likely to turn some heads.
Account holders executing through the MT4 platform will find commissions and pricing there differ to the rates offered at the proprietary platform (xStation).  XTB are not alone in having a set up like this but it's important to note that the MT4 spreads can be wider.
If leverage is important to you, then the XTB 'Elected Professional' account might be of interest as it allows traders that meet certain criteria to scale up above the standard 30:1 rate.
XTB provide account holders with the choice of two high end platforms.  MT4 from MetaTrader is tried and tested platform that is highly regarded by traders.  The proprietary offering, called xStation 5 has won a range of awards and meets the requirements of both new and experienced traders.
xStation is very well laid out.  It is web based, visually attractive and navigation is quick and easy.  With an intuitive feel it prides itself on facilitating fast trading times, this theme backed up by our testers finding the default option in forex markets was one-click rather than two-click trading, which is something traders might want to watch out for until they get used to the system.
We particularly liked the Market Analysis screen which had a range of filters such as 'Market sentiment', 'Heat Map' and 'Top Movers' both of which gave us a good feel for the market.
The News and Calendar functions are less exciting and offer somewhat standard information in somewhat standard ways.
The charting tools also lack some of the magic found in other areas of the site but they are more than satisfactory.
The range of markets available would easily satisfy most traders.  The number of global markets exceeds 1,600 stock CFDs, 95 ETFs, 21 Commodities, 45 forex pairs and 35 Indices.  Exposure to crypto markets is a strong point for XTB and 25 crypto markets are available.
One slightly frustrating feature of the platform is that some pop-up windows (such as the 'Notifications' and 'What's New' windows) need to be closed before you can proceed with navigating around the site.  Considering how intuitive the rest of the site is it was surprising to come across this glitch.
Customer service support is available on a 24/5 basis. Help is provided in a range of languages and during our testing, response times were quick and answer quality high.  Looking at other means of communication, the Live Chat function stood out for us.  Agents we contacted through chats were informed, responsive and satisfied all our queries.   For those with issues that are not particularly time sensitive in nature there is the option of using email.
We found the Education tab of the xStation platform to be perfectly fine but by no means a stand out proposition. There are a range of quality training videos available, for example the 2019 Video Training Guide has tips on how to scalp the Dax, but the total range of coverage was not as wide as it could be.
XTB offer further resources on the Learn To Trade section of the XTB site but whilst they are not alone in prioritizing delivery of courses to beginners and intermediate traders, the fact that the Expert section is only 'Available Soon' highlights were the firms focus lies.
The trader/account specific statistics did prove quite useful and would definitely be a tool that traders could return to again and again.  Found in the My Account section of the site they give a breakdown of trade history and metrics such as Number of Profitable Trades and Average Trade Duration.
Upgrading to a higher ranking account gains access to a higher grade of research.  Those sticking with the standard range of research and learning materials will find them interesting and useful but unlikely to offer too much support on more advanced topics.
Due to XTB's corporate structure users are guided towards the platform appropriate for their domicile.
Demo accounts take moments to open but do have a time limit of 4 weeks use.  Those looking to move on and fund a live account will need to satisfy the £250/$250/€250 minimum balance requirement and would also do well to give thought to which payment method to use.  Whilst it is possible to use formats such as Paysafe and PayPal these can incur fees whereas credit card/debit card payments in GBP and EUR do not.
The base currency of the account will be determined by the currency of the initial deposit.  This does mean users need to give a little bit of through to their long-term plans but in return, they will avoid the costs associated with converting from one currency to another.
The full breakdown of fees can be found at https://xtb.scdn5.secure.raxcdn.com/file/0094/20/Fees%20&%20Commissions_2aaa14ee6d.pdf
Given that XTB pricing is generally a model in terms of standards of pricing transparency we were surprised we had to cross-reference to another pricing table to establish that withdrawals (above a minimum size) are also free.  In addition, whilst welcoming the reference to zero fees for 'maintaining an account' we actually found some of the small print was not as clear as we would have expected.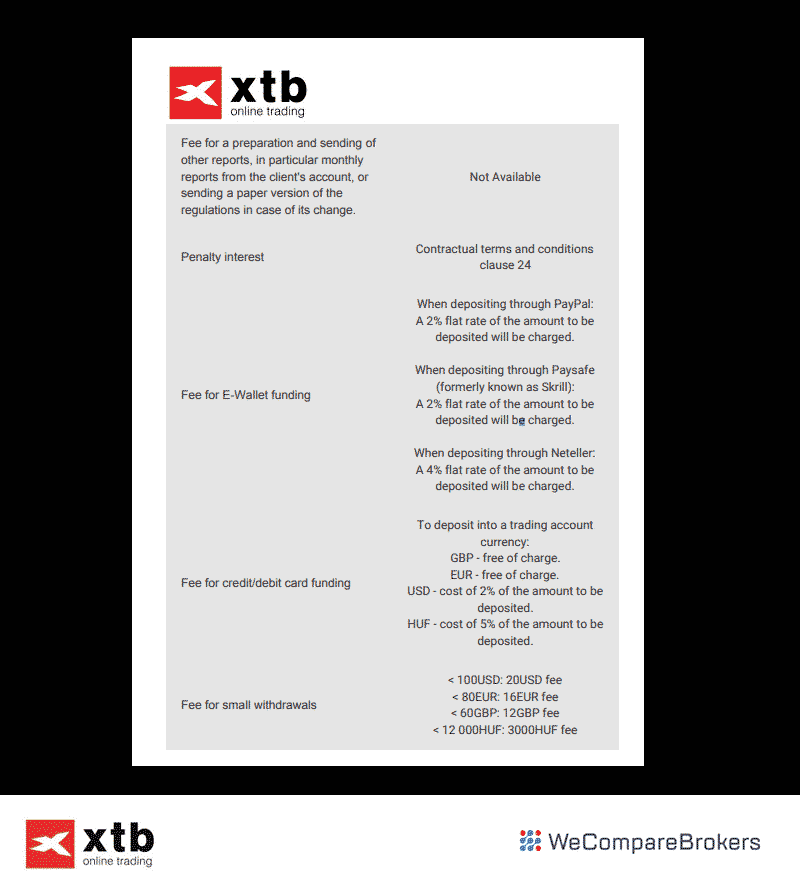 The process of setting up a live account does require additional formalities to be completed.  Whilst not excessive in nature, this kind of check should always be taken as a positive sign that a broker is fully committed to carrying out its compliance obligations.  The online application process typically takes less than 30 minutes to complete; live accounts are free to open and do contain some additional research and news functions that are not present in Demo mode.
Not that all this paper pushing need necessarily be a dull experience.  The Key Information Documents, for example, that outline some of the very real risks associated with trading, are clearly laid out and act as a useful reminder.  XTB do state in their promotional literature that they are looking to build long term relationships with their users and encouraging new accounts to trade with an appropriate degree of caution is only to be welcomed.
The KID set of documents are an example of a theme that runs across most of the site; the ability of XTB to put in front of traders the information they need, in a clear and concise way.
Two types of account are offered: Standard and Pro, with the major differences between the two being pricing related.
Trade execution is fast and easy.  Nice to have features include the 'double up position' button found in the Open Positions monitor.  This took away some of the work involved with scaling up in a position.
From a risk management perspective, it's always reassuring to have a 'Close All' button and whilst we found one in the Open positions monitor it only traded flat our forex positions. The equity CFD positions having to be closed out manually.    There was less of an issue in terms of order building, with the platform trading monitors adapted to take on more complex trading instructions.
The xStation app is available on iOS and Android operating systems though do note that the Live account app has greater functionality than the Demo account version.  Ensuring most of the desktop tools are available to mobile devices does result in a bit of a compromise and the mobile experience whilst comprehensive is a little bit clunky.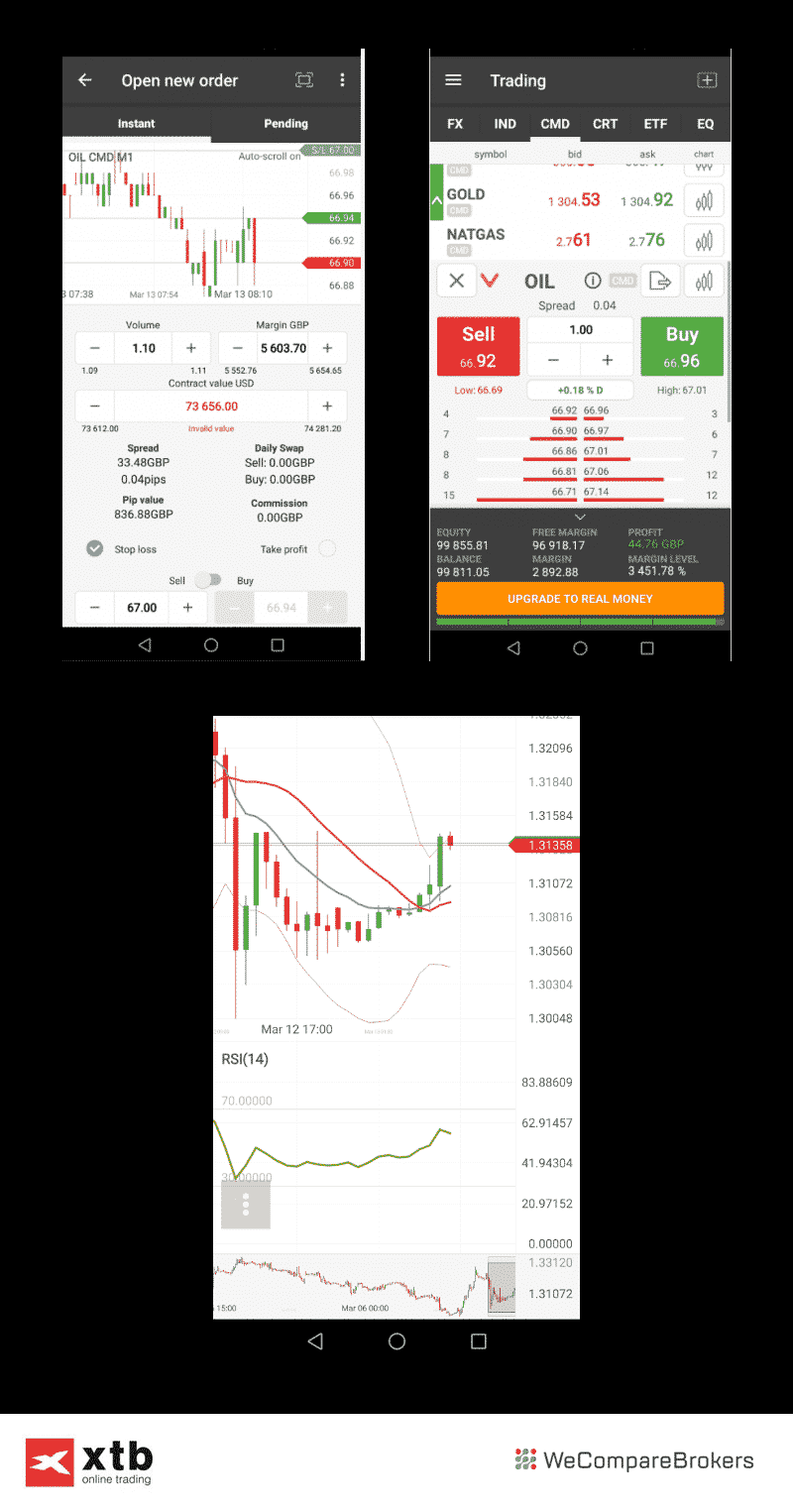 Charting tools, indicators, account admin, research and order building are all available on the app. One neat touch is the sliding window at the base of each chart that helps traders to navigate to the time interval of their choosing.
As with the desktop platform, it's when effortlessly executing trades that the platform provides the most joy and we were pleased to see the monitor showing detail of the order book is made available on mobile.
Robo Trading
XTB account holders with systematic models can engage in automated trading through an API into xStation.  Wrappers are available and language codes supported are Java, Python and .Net.
XTB account holders do not have access to MT4s automated trading areas, nor can they trade through the MT4 Expert Advisor programmes.
Crypto Currency
XTB offer a very impressive number of cryptocurrency markets.  There are 25 instruments in total and they offer a variety of ways for traders to gain access to this increasingly popular sector.  The popular names such as Bitcoin and Ethereum are covered as well as those such as IOTA, Stellar, Neo which a lot of other brokers don't provide.  A particular highlight of the XTB offering is the number of crypto vs crypto pairs such as IOTvsABTC and EOSvsETH.
Trading is in CFD form.  This means there is no need for clients to hold additional accounts or 'wallets.  Instead they can trade the instruments how they would any other asset class, including selling short.  It's also possible to choose between using the proprietary xStation platform or MetaTraders MT4 and the XTB markets are opened on a 24/6 basis.
The crypto markets are associated with very high price volatility.  Accordingly leverage is capped at 1:2 and spreads tend to be wider than for other asset classes.  Despite the sector having generally wider spreads XTB do very well to provide very competitive pricing.  The full details are available here
https://www.xtb.com/en/trading-services/account-information/market-specification#cryptocurrencies
but our testing picked out the Bitcoin spread having a target range of 1-1.5% of market price and the crypto pairs come with even tighter spreads, Cardano vs Bitcoin for example having a target spread of 0.5-1.0% of market price.
Regulatory details
XTB scores highly in terms of regulatory approval and compliance protocols.  Using a well-established broker can give account holders a greater degree of comfort.  To that end, XTB is regulated by the Financial Conduct Authority (UK), KNF in Poland and CMB in Turkey.
Being a listed company it has to comply with market standard disclosure requirements.  This means account holders are able to access the financial reports of the firm and carry out their own due diligence.
In other areas, some aspects of the Terms and Conditions might appeal to those looking to run high-risk return strategies.  Shorting volatile instruments can theoretically involve unlimited losses so the negative balance protection that's applied by XTB could be useful.  As ever, traders themselves need to check the small print and ensure any 'protection' applies to the markets they trade.
Final Thoughts
XTB would be a very good choice for a trader looking to trade FX and CFDs using an agile and effective platform.  Customer service levels are very high; which reinforces why the broker might be strongly recommended to beginner and intermediate level traders.
The regulatory, compliance and commercial structuring of the firm goes a long way to suggest the broker is a secure counterparty.  There are a few downsides, but these would only be deal-breakers for a small percentage of traders.  The vast majority of traders, supported by all that is good about the site would likely find it an ideal trading partner.
Their Most Recent Risk Warning – April 2019
CFDs are complex instruments and come with a high risk of losing money rapidly due to leverage. 79% of retail investor accounts lose money when trading CFDs with this provider. You should consider whether you understand how CFDs work and whether you can afford to take the high risk of losing your money.
Comparisons Against Other Brokers:
GO TO THE compare brokers