The Saxo group of companies form one of the premium broker services in the market.  Established in 1992 the group includes Saxo Bank which is licensed and regulated in Denmark and Saxo Markets which is authorised and regulated by the UK FCA.
These and other entities form a global network that provides traders with a hard to rival service.  One demonstration of the groups success being the approximately $2bn of assets under management, as of 2017.
Saxo Markets offers trading in a hard to beat range of instruments and markets.  Share trading alone sees 19,000 single name stocks being offered.  The list of other instruments available includes: indices, bonds, CFDs, ETFs, ETNs, Options, commodities, futures, forex and crypto.  Overall there are in excess of 35,000 instruments available to trade.
Market access is offered via a state of the art platform and accompanied by competitive pricing.  Whilst in the background the group continues to bolster its regulatory and compliance standards and has a clear focus on mitigating operational risks.
One of the most interesting features of the Saxo Markets offering is that the service offered is incredibly user-friendly and the full potential of the product can be accessed by all types of traders.  It would readily support and inspire a new trader and yet is also favoured by institutional grade investors.
Saxo Markets fees and commissions are competitive and applied in a transparent manner.
The headline rates are easy to view and all-inclusive: forex spreads start at 0.4 pips and stock and ETF commissions start at £4.99 for the UK and $3 for US names.  Given that 35,000 instruments are offered it would be unrealistic to expect Saxo Markets to come in as the cheapest broker in every market.  Instead they provide a value based proposition, with fees somewhere near where you'd expect to see them and nice add-ons as part of the service.  Trading terms are clearly laid out and easily accessed.
Leverage is sufficient for most traders, for example CFDs offer up to x40 and for that same instrument stocks and bonds held on account can be used to collateralise positions.  There is an effort to reduce the risk of premature stop-outs and there are no cash withdrawal fees.
The consensus in the trading community is that Saxo Markets are by no means the cheapest broker but nor are they the most expensive.  Individual trading styles are likely to determine how much some of their charges are a drag on performance.
Whilst there are standing charges for inactive accounts those putting through larger trade volumes would work around this issue and even benefit from the sliding commission scale that rewards more active traders with lower tariffs.  Live data feed charges apply on some exchanges, but if you're not trading a particular market you'd probably appreciate the charges involved are allocated to those traders that do trade there rather than shared across all users.
Whilst prudent market selection and trading in greater volumes could help traders manage overhead costs they won't necessarily help with the relatively high financing rates.
Saxo Markets offer a variety of proprietary trading platforms.  Each has their respective strong points but the two that we'd suggest choosing from are SaxoTrader GO or SaxoTrader Pro.  Not only do these offer the best functionality but they look like being the focus of attention in terms of future product development projects.
SaxoTrader GO is incredibly easy to work with.  We recommend new traders "Take The Tour" offered at first log in.  The fact that the tour is less than a minute long yet manages to outline most of what you need to know gives an idea of how easy it is to navigate the site.
Moving between the monitors and sections of the site it's quickly apparent that most of what you need to trade is readily available and in a streamlined format designed to help you get on and trade.
The high level "Trading", "News & Research" and "Account" tabs guide users to the three key areas of the site.  Each area offers a multitude of tools and services that can be easily accessed and personalised.  Navigation is intuitive and fluid.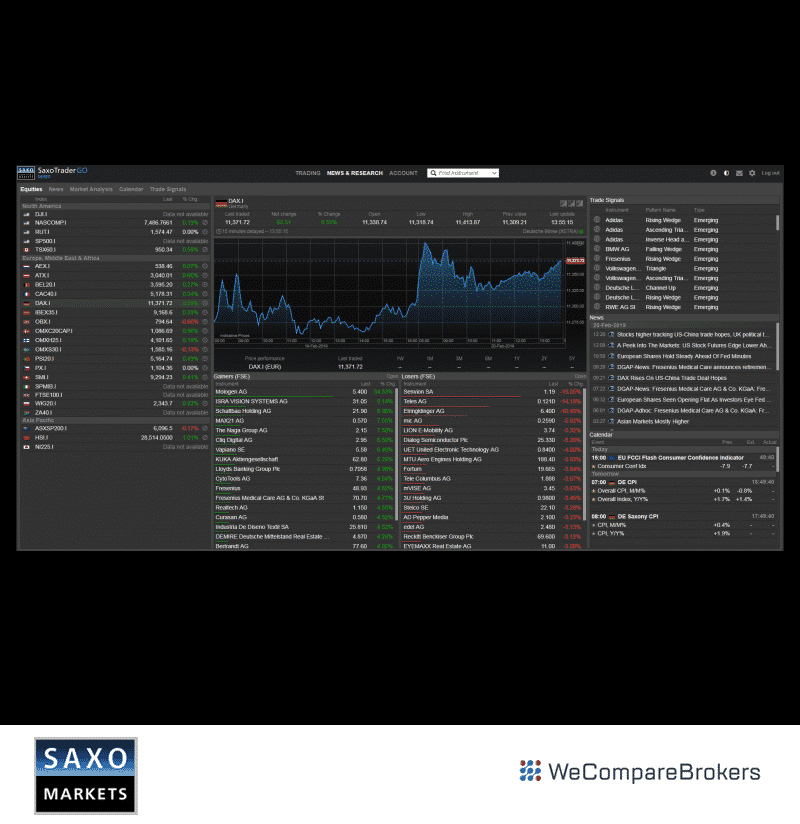 The platform has sections for Signals, Alerts, Calendars, Analysis and News and the layout helps all these to be incorporated into the main dashboard according to trader preference.
The Watchlists that form the spine of the trading layout can be customised to a granular level and also saved as custom templates.  The 'Single Row' display accommodates 24 column types whilst a 'Trade Board' lay-out offers a display type ideal for a trader looking to engage in some quick fire execution.
One interesting glitch can be reported. We found that saving different layouts is not always as intuitive as it could be.  There were times when charts we had been working on slipped from view and were hard to relocate, and at times resorted to just building the chart again.  This may well be a temporary situation because luckily for traders it looks like there is no room for complacency and notes on the site point to continuous upgrades being put in place.  Given the reputation and financial clout of Saxo Markets, notices of developments to the system suggest an intention to cement the platform's status as market-leading and are something to anticipate with some enthusiasm.
The extensive range of tools and support functions on the platform provide traders with high-end functionality but by being presented in an accurate and clear way remain a joy to use. It's easy to see why the Saxo platforms are held in such high regard in the market.
The telephone based customer support teams we contacted were very knowledgeable and addressed all our issues with confident ease.  It was particularly reassuring that they answered our questions without having to put us on hold and themselves research the answer.  The Saxo Markets promise is that support with technical matters and account queries is available whenever markets are open and that is back up by the 24/5 level of service.
Saxo Markets are in the process of rolling out a Live Chat function but until then the only options available to users are the telephone help desks, written messages or a chat bot.   Using a chat bot is typically a frustrating experience and with Saxo Markets that is unfortunately the case.  Questions aren't really addressed but instead the bot brings the conversation back to an inconclusive FAQ menu.  In our testing there was a disclosure made that 40 out of 363 users had found a particular article helpful, statistics that in themselves are a sure sign that the pending upgrade to Live Chat will be welcomed by many users.
Saxo Markets has long been recognised in the market as providing the highest grade research and learning tools.  As well as providing powerful analytical apparatus the site also provides appropriate background information to facilitate traders who want to get the most out the tools.
News monitors that form part of the SaxoTrader Go platform put interesting and pertinent articles right in front of users.
The way news and calendars are presented can be chopped and changed and whilst some layouts might look a bit like a shopping list we liked this and recognised it as sometimes being the best means for traders to gain quick access to the information they want and need.
A lot of brokers focus their attention on beginner and novice traders.  The materials Saxo Markets provides to support this group is exemplary but where they stand out from the crowd is by following up with reports and analysis that is worthy of being described as 'Advanced'.
The materials are thought provoking and informative. They are at least a means of improving general market understanding and very likely a source of future trading ideas.
Social trading and research ideas are offered on a stand-alone platform called www.tradingfloor.com which although away from the main trading area is made up of Saxo Markets users and includes a very useful range of information sources.  It's much more than a chat room and come equipped with research tools, sentiment reports, correlation tables and a whole lot more.
Accessible in a variety of languages it provides an opportunity for traders to liaise with and even follow other traders and the Saxo Strats in-house analytical team.
Setting up an account at Saxo Markets couldn't be easier. Our research would suggest that a new user could set up and trade a Demo account in well under one minute.  The default Worksheet layout has been given some consideration and is a good base to start from.  Those looking to incorporate data from other areas, such as news, signals and calendar monitors can do so with ease.
Some names are offered in different instruments or on a range of different exchanges so traders do need to be diligent when executing.  The CFD and Equity versions of an instrument are differentiated through the use of colour coding which appears to work well but we'd imagine is not fail-safe.  It's highly likely that a quick straw poll would establish that some traders had frustratingly failed to close out a position but instead opened two separate legs in the two instrument types.
Whilst the administration relating to the account is user-friendly there is a £500 minimum balance to consider.  If you are in a position to place funds of that size with Saxo Markets you can take comfort from the fact that there are no withdrawal fees.
SaxoTrader Go has double click trading set up as default but can be easily switched to one-click.  Building orders in a more measured way is also possible with easy access to a range of additional parameters such as trailing stop losses.  The considered trader will also benefit from a display showing details of transaction charges and margin usage is just one click away.
We particularly liked the pop-up window notifying us that one of our orders had been filled without Take Profit or Stop Losses being included; this neat reminder providing a nice 'four-eye check' on our trading activity.  This kind of back up function would appeal to for those looking to put through significant trade volumes using the Trade Board layout.
The Saxo Markets platforms offer seamless access to nearly all electronic markets with functionality to suit all types of trading styles.
The SaxoTrader Go mobile app is free to set up and offers a nearly seamless continuation of the desktop platform.  In line with the rest of the Saxo Markets service, using the app is a means to accessing a wealth of reports, indicators and data.
The charting tools were particularly impressive and offered a range of functionality almost identical to the standard platform.  Synching watch lists with the web-based version of the platform meant annotation on a particular desk-top chart could be seen on the mobile version, and vice versa.  This would likely prove to be particularly useful for those that trade off more than one mobile device .
The execution function has been built for speed and efficiency and the point-of-trade screens include everything you need but nothing that you don't.   A wide range of risk management features are available including: take profits, trailing stop loss and fee information.  In addition, there are 'cancel all orders', 'account shield' and 'quick-close positions' tools in case the market conditions are such that you want to quickly scale back on risk.
Robo Trading
Access to automated trading is not heavily promoted on the site and whilst it might not appear to be particularly high on Saxo Markets list of priorities it is available.
Excel sheet based automated trading and back-testing of strategies can be accessed by those with Live accounts, but not by Demo account holders.  Those looking to take things further and set up a link to the Saxo Markets API would need to be holding a minimum account balance of £100,000 but for that they can expect an institutional grade level of service and support.
Traders who can't stretch their budget quite that far but want to invest in a more hands off way can open a Saxo Select account that incorporates third party research from the well-respected firm Morning Star.  The minimum account balance is still relatively high at €30,000 but the service will appeal to some and reconfirms the group's intention of offering a multitude of ways to access the markets.
Crypto Currency
Saxo Markets offer exposure to cryptocurrencies in the form of ETNs (Exchange Traded Notes).  ETNs are an unsecured debt note issued by an institution which can be held until maturity or bought and sold at will.  The underlying instrument is the cryptocurrency itself so the change in the price of the crypto is mirrored by the change in the price of the ETN.  At Saxo Markets they offer ETNs that track the movement of Bitcoin (BTC/USD) and Ethereum (ETH/USD).
Trading cryptocurrencies at Saxo Markets does not involve leverage.  Whilst most brokers offer (only) 1:2 leverage even this doubling of risk can have significant consequences due to the highly volatile nature of the cryptocurrencies.  Given the nature of the product the absence of leverage might not be too much of a disadvantage to some traders and might even be welcomed by the more cautious.
It's possibly fair to say that Saxo Markets have not fully bought into the Crypto trading revolution.  They make available a lot of material explaining the nature of the product, the markets and the risks involved.  They even consider the security issues and nature of 'market bubbles'.  It's not that they havent analysed and considered the crypto markets, it's just that they have drawn different conclusions to many other brokers.  Offering unleveraged ETNs in a couple of crypto markets allows Saxo Markets clients to gain some exposure but it doesn't look like Saxo Markets are fully convinced that they should be promoting crypto trading to their clients.
[As ETNs are underwritten by an issuer, should the credit worthiness of that issuer become a concern then the price of the ETN may change to reflect the risk of default.  This kind of price move can occur even if the actual crypto instrument does not change in price.]
Regulatory details
All traders should carry out their own due diligence on any broker platform that they are considering as the viability and trustworthiness of your counterpart is of major importance.  Luckily, the regulatory and operational framework provided by Saxo Markets is one of the best in its class.
Saxo Group has a 25 year track record and on a daily basis manages over 1 million transactions.  Its different entities are authorised and regulated by 15 different authorities, including: FCA in the UK, Danish FSA, Singaporean MAS and Australian ASIC.
The group also does well in terms of signing up to market standards that are more voluntary in nature.  In 2017 they signed up to the FX Global Code and voluntarily publish Enhanced Disclosure information.  Whilst this does not necessarily impact to the day to day activity of traders it does reflect that Saxo group are promoters of policies designed to protect account holders activities such as over leveraging.  There are many signs that Saxo Markets are committed to adopting and promoting transparency and best practice, and the policies and protocols they follow are made readily available on the site.
Final Thoughts
Saxo Markets offers traders pretty much everything they could want.  The market access and trading experience are hard to beat.  Mobile and desktop platforms combine seamlessly and research and learning tools aim to inspire as well as educate. Whilst headline costs are in line with their peer group some less active traders might find extra overheads something they need to consider.
There are a range of extra services which come into play as account size increases yet interestingly; even without these add-ons, the standard offering knocks most of the competition out of the water.
Their Most Recent Risk Warning – April 2019
CFDs are complex instruments and come with a high risk of losing money rapidly due to leverage. 72% of retail investor accounts lose money when trading CFDs with this provider. You should consider whether you understand how CFDs, FX or any of our other products work and whether you can afford to take the high risk of losing your money. Losses can exceed deposits on some products.
Comparisons Against Other Brokers:
GO TO THE compare brokers