Pepperstone is an Australian broker with an agile approach and global reach.  Founded in 2010 by a group of traders, its stated aim is to make the trading experience just what a trader would want it to be. They focus on offering trading that is cost-effective, fast and convenient. Our Pepperstone review will test all aspects of Pepperstone offering, from platform to customer service.  We will give you the info you need to decide if they are the Broker for you.
Clients now also benefit from the firm's London office which was established in 2015 and are offered the choice of three top of the range platforms through which to trade. The platform, cTrader has a user-friendly functionality that will appeal to both new and experienced traders. In line with the brokers reputation in the forex markets they also offer the 'go to' forex execution platforms, Meta Trader's MT4 and MT5. The most popular retail trading platforms in the world these are something of an industry standard and score top marks among the members of the trading community that are looking to hook up their own systematic models to the market.
Pepperstone offer traders a range of account types. This means clients are able to cherry-pick different aspects of the Pepperstone offering. The agile functionality is supported by a top grade operational and regulatory framework designed to give clients a degree of confidence that their funds are secure. Whilst the financial markets in general have been subject to fraud and illegal behaviour Pepperstone have made an effort to address this issue and gain a reputation for fairness and reliability.
Founded in Melbourne nine years ago, Pepperstone has already built a significant following. The number of industry awards that it has picked up also hint at its growing reputation. At the 2018 UK Forex Awards – Pepperstone won, Best Forex ECN Broker, Best Forex Trading Support, Best Forex Trading Conditions, and from the same year 'Best Australian Broker' (CompareForexBrokers.com.au).
The firm is a balance of agility and strength. On the one hand there is the strong emphasis on meeting client needs and providing a range of innovative software tools that help its clients trade the markets. On the other the firm is regulated by the FCA in the UK and ASIC in Australia.
A lot of Pepperstone's clients will be attracted by low brokerage fees on offer.  As is often the case, brokers with something to shout about in this area typically present their pricing schedules in a clear and transparent manner. The focus on forex makes Pepperstone rates even easier to analyse and cross-reference.
The only complexity comes from the broker offering a range of different accounts and each of these comes with their own terms and conditions. But with only a limited number of non-forex markets on offer it's still quite easy to get a feel for the pricing. Taking forex as an example, there are four types of account.
Spreads on the MetaTrader 4 platform are variable, with quotes coming from as many as 22 Major Banks and Electronic Crossing Networks.  The below gives potential clients an idea of what is on offer and the details that allow a more thorough analysis can be found here.
Edge Standard – $0 commissions and interbank spreads from 1 pip
Edge Razor – AUD $3.5 per 100k traded. With Raw Interbank Direct Pricing and spreads starting at 0.0 pips
Edge Swap Free – $0 commissions, STP processing and spreads from 1 pip (Islamic account)
Edge Active Trader – Bespoke terms available for high volume and institutional traders
Edge Active Traders can apply to upgrade to institutional grade terms and conditions in terms of pricing and market flow.
Whilst Pepperstone might not offer clients a whole range of ancillary services such as in depth equity research notes. Our Pepperstone review found that traders who are looking for high quality access into the forex markets should have Pepperstone on their list of brokers to try.
What do you think of our Pepperstone review so far?  Please leave your feedback at the bottom of the review with any of your own Pepperstone experiences that may help other traders make an informed choice.
Pepperstone clients have the option of using the ever-popular MetaTrader platforms (MT4 and MT5) which can be downloaded as a desktop version or accessed through a Webtrader version which just requires an internet browser.  The web-trader version of the platform mirrors the downloadable desktop version.  It has the same functionality and even a few add-ons such as access to Pepperstone's proprietary forex trading technology.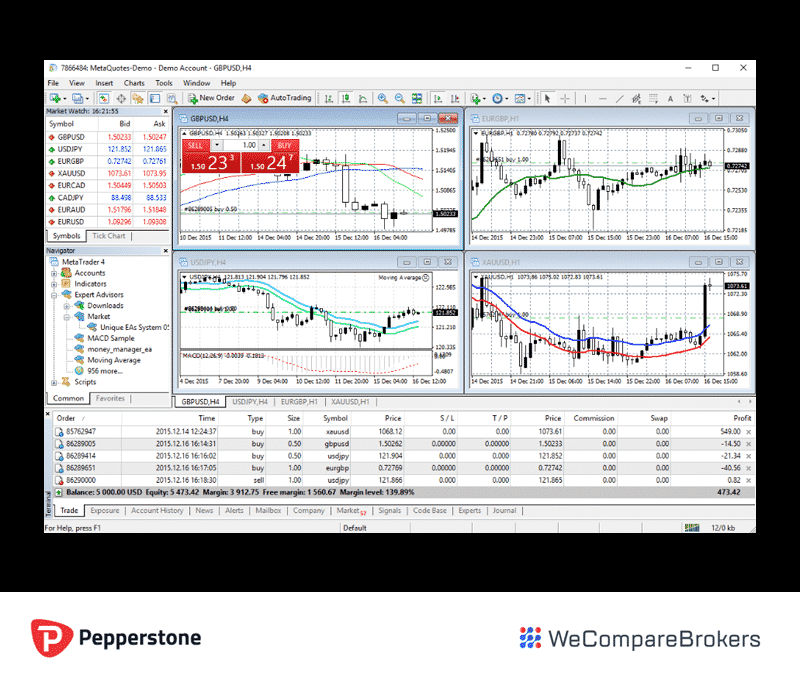 MetaTrader is the world's most popular retail trading platform. This popularity stems from giving traders what they want.  Development of the Meta platforms is done incrementally, the decision obviously being "if it ain't broke, don't fix it". The MT platforms are robust, user-friendly, and packed to the brim with powerful software tools that offer a market leading range of charts and indicators. For many the most important feature of the Meta Trader platforms is the reputation they have for supporting systematic trading. The MQL language it uses allows the traders to program their own indicators. Those looking for a more hands off approach can take advantage of the MT automated trading program Expert Advisors (known in the market as EAs).
The cTrader platform comes as a desktop product that has to be downloaded or as a Webtrader, browser based platform. It has similar functionality to the MT platforms and during this review our testers concluded the cTrader platform had a very professional feel to it and an attractive aesthetic. The execution interface includes a range of more advanced order type settings including one-click, double click or indeed the option of disabling quick trading to mitigate against fat-finger mistakes. These were a nice to have feature and reflect that the needs of traders have been considered during the design process.
The benefit of direct access into the markets is that flow is increased and prices optimised. The downside is that it is not possible to provide guaranteed stop losses. This means there are theoretically instances where the market price could gap over a traders 'regular' stop loss and cause considerable losses. This is a risk that is worth noting.
Another area where Pepperstone scores well is in terms of the technological framework they have developed. The site's reference to "Equinix (NY4)", "optical fibre cross-connects" and "VPS co-location" (see here) may to the uninitiated come across as geek-speak. Those familiar with the terms, or willing to learn about them, will take comfort that the tech infrastructure is institutional grade. All of this results in trade execution latency that is as low as 50ms (0.05 of a second). The same attention is paid to deal flow with pricing feeds from 22 banks and liquidity providers and also access to dark pools.
The Pepperstone service is based on the use of institutional grade technologies. The different aspect of the tech framework all work together to give traders tighter spreads, fewer delays, fewer rejects and fewer requotes. Our Pepperstone review tests delivered very stable results.
Pepperstone have a reputation for providing top-tier customer support and indeed have won a multitude of industry awards in this category. Client support is offered 24/5, in a multi-lingual format and can be accessed via telephone, live chat or email.  The support starts at registration when new clients are allocated an account manager. This would be of particular benefit to the less experienced and refreshingly doesn't include a hard sell.
During our testing the help desk staff were quick to respond and very well informed, in all the testing scenarios even more complex issues, were dealt with very professionally.
What do you think of our Pepperstone review so far?  Please leave your feedback at the bottom of the review with any of your own Pepperstone experiences that may help other traders make an informed choice.
Pepperstone scores highly in terms of the research and learning materials it offers to clients though as might be expected it scores highest in the forex category. The wide range of material comes in various formats.  Novice traders are hand-held through materials such as the user-friendly 'Learn to trade Forex' section. The Webinars section introduces more advanced concepts that will appeal to all traders, particularly those looking to incorporate new ideas into their trading strategies. A handy archive of past webinars is available which means support is available on most topics. The Trading Guides section holds a range of written reports covering topics such as risk management and trading strategies.
Pepperstone tick the box in terms of the day-to-day trading tools on offer. There is an Economic Calendar, a Market Review research note and Autochartist. The last of those three items, Autochartist is a very nice addition; a powerful piece of software that saves traders time. The package works by recognising patterns in price data such as fibonacci retracements, support and resistance levels and volatility indicators. Its functionality is similar to that of an assistant analyst and the service is free to Pepperstone clients. Whilst Autochartist can't guarantee a traders decisions will be correct, it does offer the chance for them to become more efficient and knowledgeable.
Those looking for fundamental style research or discussions of macro themes will be disappointed.
Pepperstone's sweet spot is the forex markets. There are in excess of 61 currency pairs meaning traders can access Major, Minor and Exotic pairs.
Not only are spreads in the forex markets tight but they are backed up by high quality flow thanks to the use of interbank execution. Currency pairs EURUSD, USDJPY, AUDUSD, GBPUSD have spreads that start as low as 0.0 pips. Whilst these widen on other currency pairs the Pepperstone pricing is always 'there-or-there-abouts'. All this adds up to an execution service that belies its provenance as being designed by traders for traders. Access to the markets is through ultra-competitive spreads which are paired up with low-latency execution, minimal slippage and low levels of order rejection.
Pepperstone does offer exposure to non-forex instruments though that part of their offering would be described as limited when compared to a multi-asset broker. The small number of markets offered in indices, equities, commodities and cryptocurrencies suggests the service is intended to give forex traders the opportunity to gain exposure to other asset types rather than trade them specifically. This may be changing and there are an increasing number of other markets being made available.
There are in excess of 60 American listed CFDs to trade. Those available have large market capitalisations and include firms such as Alibaba and Alphabet – all are tradeable at margin rates as low as 10%.
Indices – there are 14 major stock indices available to trade and these offer exposure to markets ranging from China, Italy, Australia and US Tech.
Commodities on offer benefit from the inclusion of the energy markets: XTIUSD, XBRUSD, XNGUSD and can be traded. In addition there are five soft commodities (Cotton, Sugar, Coffee, Cocoa and Orange Juice) and 7 metal commodity markets including gold, silver and platinum.
Standard accounts come with leverage rates that are set inline with the industry standard maximum leverage of 1:30. Stock CFDs have a lower ratio of up to 1:10 and cryptos come with maximum leverage of 1:5. Those who are eligible for a Professional account and are looking to scale up their risk can apply to have their maximum leverage taken up to 1:300. They would of course do well to remember the risk notices that explain how increased leverage not only increases the size of profits but of losses as well.
The free Demo account takes moments to set up meaning traders can get an almost instant feel for the site.  Registering for a full live account takes a little longer which is in line with standard market practise and is due to the regulatory conditions such as 'Know Your Client' protocols which the broker has to comply with.  Whilst no-one likes delays, in this instance they demonstrate Pepperstone is aware of the need to protect consumers and of its own regulatory obligations. Deposits can be made using: credit card, bank transfer, broker to broker, skrill, Bpay, Fasapay, Neteller, Poli, Kiwi Wallet and Union Pay.  The minimum opening balance is AUD$200 and base currency options include: AUD, USD, JPY, NZD, CAD, SGD, EUR, GBP, CHF, and HKD
Offers
You can earn extra rewards when you visit the Refer A Friend. and introduce people to trade with Pepperstone.
"If you refer someone to Pepperstone and they fund their account with more than USD1,000 (or equivalent) plus trade at least five standard FX lots, we'll deposit USD100 (or equivalent) into your trading account to say thanks. It's that easy."
There are also intermittent offers such as the one below taken directly from the Pepperstone site.
"Enjoy 50% off commissions for a month on all your Pepperstone share CFD trading for one month. To save, all you need to do is trade Share CFDs with Pepperstone between 17 July and 16 August."
The Pepperstone App supports both Demo and Live account trading; it is free to download and available in iPhone and Android format.  The Meta Trader platform is also available on both iPhone and Android platforms and is also free to download.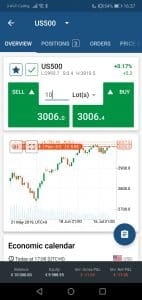 This broker review considered the relative strengths of the Pepperstone app and the MetaTrader (MT4 and MT5) apps. The main conclusion is that both do the job they are set out to do and choosing between the proprietary and Meta Trader services would largely come down to personal preference.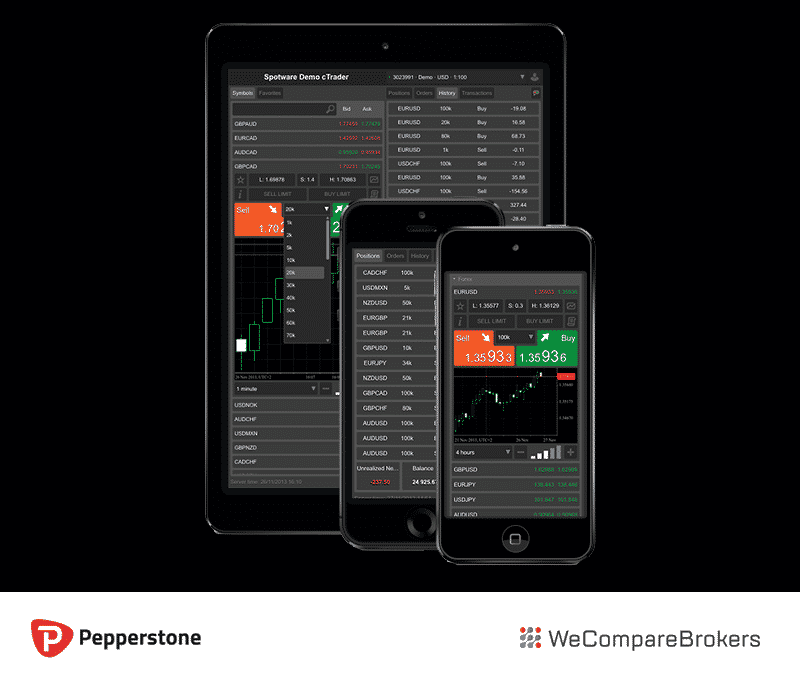 The Meta Trader app is a user friendly means of benefiting from the Meta Trader top in class execution services. It offers more than just trading. Among other things, it's possible to connect to brokers' services, analyse markets, use their powerful charts and technical indicators, and view the history of your trading operations.
What do you think of our Pepperstone review so far?  Please leave your feedback at the bottom of the review with any of your own Pepperstone experiences that may help other traders make an informed choice.
Robo Trading
The cTrader platform runs an automated trading service called cTrader Copy. It involves Strategy Providers broadcasting their trading strategies in return for a fee from Investors. The amount of information disclosed by Strategy Providers is in line with the peer group which means Investors have a fair amount of information to draw on when choosing if they want to follow anyone. The fee structure is a blend of management fees, performance fees and volume fees. Those considering the service would need to check the terms and conditions and ensure that setting up and termination of relationships meets their requirements. Our research suggested Pepperstone scored favourably in terms of notification period.
MetaTrader's accommodation of robo trading is long established. Traders that develop their own algorithmic models hook them up to the Meta platform and in an automated manner, analyse market data, digest signals and instruct automatic execute. The Expert Advisors (EA) part of the Meta site hosts programs that have been developed by other traders and which can be used by clients, usually for a fee.
It is also possible to hook up Pepperstone accounts to other third party Copy platforms such as Zulu Trade. The connection requires a Limited Power Of Attorney form to be completed but is usually set up within 24 hours.
The risks associated with any kind of Copy trading apply to Pepperstone clients as much as they do those of other Copy brokers. Those engaging in it should ensure they are aware of the potential pitfalls associated with this form of trading.
Crypto Currency
Markets are provided in 5 of the more well-known Cryptocurrencies: Bitcoin, Bitcoin Cash, Ethereum, Dash and Litecoin. Leverage is capped at 1:5. At the time of our Pepperstone review only these currencies were accepted but we would expect them to add others over the coming months.
Regulatory details
CFDs and margin FX are leveraged products, inherently risky and client accounts can be wiped out through poor trading decisions and factors outside of a trader's control.
Negative Balance Protection is the principal that a client can't incur losses in excess of their original stake; NBP is applied to Pepperstone accounts but only partially. Standard due diligence would require anyone setting up a broker account to analyse the small print in depth but at a very high level the question of whether or not the NBP comes into effect depends if the loss is initiated by the client or the broker. The Pepperstone site, states.
"Losses may exceed your deposit amount. The Pepperstone MT4 and cTrader platforms have a built-in automatic stop-out system, however this does not guarantee the balance will not go into negative; trade execution depends on market liquidity and pricing." 
On the other hand, the site also states.
"From time to time the Pepperstone Platform's automated stop-out procedures may not prevent your Account from incurring a negative equity balance due certain market conditions outside of our control. In these circumstances:
(a) you will not be liable for any negative equity balance on your Account; and
(b) we will adjust your Account equity balance to zero within 1 Business Day.
If you find a negative equity balance on your Account that has not been corrected, please contact us at support@pepperstone.com."
Entering into any commercial contract includes a degree of counterparty risk. In Pepperstone's case they have set out to mitigate these risks by complying with the regulatory requirements of top level regulators. Pepperstone is authorised and regulated by the Financial Conduct Authority (FCA) and in Australia by the Australian Securities and Investment Commission (ASIC). All client funds are segregated in trust accounts with the custodian banks involved being Barclays (UK) and National Australia Bank (Australia). The exact terms and conditions will depend on the domicile of the account holder but these are all clearly laid out in an easy to digest format.
Final Thoughts
Pepperstone are particularly strong in the forex markets.  Some of their bid-offer spreads are as tight as zero. Trade liquidity levels are high quality due to the direct access relationships the broker has set up in the market and the technical infrastructure it employs. This means trade execution is low-cost, fast and reliable. The trading interface into the markets has the feel of an institutional grade broker.
The firm has made less of a commitment to non-forex markets. These are covered, but only to a minimal extent, possibly as a way to offer forex traders a hedging position in a different asset class. Another less positive aspect of the service is the limited nature of the Negative Balance Protection and absence of Guaranteed Stop Losses. The mechanics of the markets mean that a broker that operates so far into the heart of the market can only offer limited protection to clients. As a result execution risk sits with the client and market gaps could prove costly. Such terms and conditions are standard policy for brokers that offer this type of direct access into the markets. Traders make a choice according to their preferences and it's just important that the choice is an informed one.
To their credit Pepperstone have demonstrated they are aware of the issue around negative balance protection and designed some kind of framework to try to manage it but there is still a risk to measure and manage.
The research and learning resources are plentiful and useful though concentrate on forex markets. One positive is they are tailored to educate and inform more advanced traders and not just get beginners up and running. The regulatory framework and customer services are also up there with the best in the sector.
Pepperstone will continue to attract clients because they aim to be 'best in class' in terms of trade execution in forex.  The technical architecture they use is to some extent ground breaking in terms of what is available to retail clients.  Built by traders, for traders, for some it will be a long-term, best fit broker.
What did you think of our Pepperstone review ?  Please leave your feedback at the bottom of the review with any of your own Pepperstone experiences that may help other traders make an informed choice.
GO TO THE compare brokers