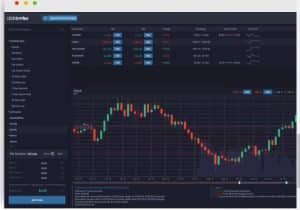 Introduction
ClickTrades is a new CFD broker (launched in 2018) that offers a safe trading environment on its excellent WebTrader platform, while aiming to open up as many opportunities for traders all over the world. Due to its ever-growing set of features, special promotional & bonus campaigns, ClickTrades has set out to create the best possible trading experience.
The broker is authorised and regulated by Seychelles Financial Services Authority (license number SD020), and it operates worldwide, although with certain restrictions in countries such as Japan, Canada, and the US.
Regarding its trading offer, ClickTrades gives access to over 2,100 CFD instruments grouped in 6 asset classes, which are the usual Forex, Commodities, Shares and Indices, as well as Bonds and ETFs.
Education is an important part of the ClickTrades site and the broker treats it very seriously and professionally. Traders can benefit from one-on-one meetings with trained account representatives, a large video library filled with learning materials, market news that provides insights into the financial world and many more exciting opportunities!
Commissions & Fees
Traders can relax because ClickTrades is 100% safe when it comes to the commission and fees department. This means there are no hidden costs waiting around the corner and, in fact, there is no commission to be paid for deposits and withdrawals with this broker at all!
The conversion fee stands at 0.5% and customers who leave their accounts inactive for more than 90 days will have to pay a fee of $10.
ClickTrades also doesn't disappoint with regard to special offers and promotional campaigns for traders. Their bonus campaigns vary a lot and the broker always keeps them updated. Of course, there is a requirement for acceptance of the terms and conditions before participating, but this shouldn't be an impediment. Right now, they're running a deposit bonus campaign for first-time depositors.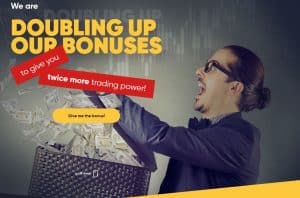 Traders have several different payment methods to choose from for all transactions, such as credit card (VISA, Mastercard, Maestro), PayPal and various e-payment options – Trustly, Skrill, Neteller, to name just a few.
Finally, the minimum amount required to open an account at ClickTrades is just $100. For this small fee, investors can access the latest market news, multi-language customer support and several other options and features.
Customer Service
A customer-oriented approach is ClickTrades' main goal, according to its mission statement. They state that all clients are properly guided throughout their entire journey with them, from the very beginning of the sign-up stage.
We ran several check-ups, just to see if ClickTrades is true to it's word, and we must say we were deeply impressed. All our inquiries were promptly solved and the overall experience and response time of the site's agents was nothing short of stellar. In conclusion, we strongly believe that this broker's customer support team is a great help for any trader's needs.
The support teams are available through the Live Chat option, e-mail or through the phone number on the website.
What others say
We had a hard time finding any negative reviews for ClickTrades. One of the very few drawbacks for some online reviewers was the lack of MT4 & MT5 support. Apart from this inconvenience, here's what the Internet has to say about the broker in question:
Forextradingbonus.com:
"On the website, one can find information about the broker, its regulation, terms, and conditions for trading, legal documentation and more. There is full information about the assets one can trade with, trading tools and news. We are always glad to see when the brokers are trying to keep their customers informed about the news that is happening in the Forex market."
Although it may not have the best-looking website in the industry, all of the information on ClickTrades.com is quickly and easily accessible to the customers, which means the general user-experience is great.
Forexbeginners.net:
"The company prides itself in offering the best possible security and reliability features to the customers. It adopts and follows the highest degree of data confidentiality and protection of its customers to ensure their safety. Clicktrades also takes regular measures for keeping the funds of their customers. The customer's funds are segregated and treated differently from the funds and assets of the company, thereby ensuring greater safety."
Security is paramount to anyone who trades on the financial markets. ClickTrades doesn't fail to impress here either with its features created with the customer's safety in mind.
Valforex.com:
"We found that Clicktrades puts the Economic Calendar at your service, where market-moving events are shown to traders.
This offers an immense advantage to all traders, as they can begin to develop their plan before an important market even happens – a really useful tool for traders that are only now getting into the financial markets."
Forexbonuslab.com:
"In the end, we can definitely say that ClickTrades is definitely legit. They do not exhibit any scam like properties, and on top of that, they provide a highly reliable service that many users around the world (who get to use their platform) reflect on as being a very positive experience."
Research
ClickTrades' platform, WebTrader, hosts more than 2,100 CFD instruments. The highest leverage is 1:300 (for trading CFDs on Forex), but the other asset categories also offer tempting leverage levels, including up to 1:200 for CFDs on more than 26 indices & 19 commodities.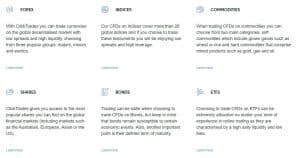 In the stocks department, ClickTrades covers 20 major markets and enables traders to invest in popular shares such as Apple, Facebook, Intel, Amazon, and many others.
The broker doesn't ignore those who fancy trading CFDs on ETF instruments or bonds. More than 30 ETF instruments with up to 1:100 leverage are available, while the leverage for popular global bonds is as high as 1:100.
All in all, this extensive range of trading options is equally tempting for investors who plan to expand their portfolio and knowledge, and for less experienced people who are looking for a platform to place their first trades on.
In the education section on ClickTrades, there are options for any potential customer. Depending on what account plan investors opt for (Original, Essential or Signature – each one with its own benefits), traders can unlock more and more learning tools and materials, culminating in full access to extensive market research.
There is also a very good market news section that covers everything notable in the financial industry.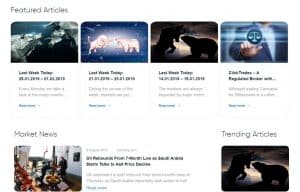 Ease of Use
Accessing the ClickTrades platform is quick and easy. In a matter of minutes, anyone can create an account and start trading with this particular broker. ClickTrades scores more brownie points here.
Once on the WebTrader platform itself, customers can navigate smoothly, as the interface is both user-friendly and intuitive. In other words, everything turns into an interactive trading session that enables investors to control every decision they want to make, what tools and charts they plan to use and, of course, the most important thing, what exactly they want to trade.
The dynamic Trading Central tool is also available through the web platform and enhances the overall trading experience even further. This tool is always updated with the newest analysis reports, market information and charting packages.
Order Execution
ClickTrades' trade execution times and order execution times are fast. In addition, they can support a wide range of trading strategies and trading styles (for more detailed and nuanced approaches or for cautious and tentative approaches).
Mobile Trading
WebTrader is fully compatible with iPhone and Android gadgets. This means traders can use the platform on the go, irrespective of the device they own (mobile phones or tablets). Moreover, they can download the app for free from either Apple's App Store or Google Play Store.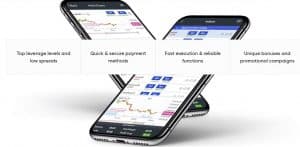 Overall, it is very important for users to have access to their trading accounts from any device. ClickTrade's WebTrader benefits from plenty of instruments, analysis tools, and many other features that guarantee a better trading experience. The design of the trading platform is very simple yet very attractive.
Regulatory details
Regulatory details
The broker has a license to operate by FSA Seychelles, one of the most reliable non-CySEC regulators in the market nowadays.
This regulator has built a strong reputation despite it being very strict in how they treat their brokers, which can only increase the trust factor surrounding ClickTrades.
For an added extra security measure, the ClickTrades website uses SSL encryption similar to the one that big banks and other financial institutions use to make their customers' purchases as safe as possible.
Final Thoughts
Final Thoughts
In conclusion, ClickTrades provides all types of investor with the much-needed and necessary next-generation market tools in order to help them make educated and informed decisions on their own.
This broker's excellent array of bonuses and promotions are a particular highlight as well. These are updated periodically and give value to the company's CFDs trading offer.
Going even further, ClickTrades offers a solid platform and an excellent learning academy, where people can enhance their investment strategies and bring an extra dose of versatility and innovation to their trading.
As a downside, traders who choose ClickTrades cannot use the popular MetaTrader 4 or MetaTrader 5 platforms.
Latest Broker News
Their Most Recent Risk Warning
Trading Forex and CFDs is highly speculative, involves a significant risk of loss and is not suitable for all investors. Before trading, you are strongly advised to read and ensure that you understand the relevant risk disclosures and warnings. There is a substantial risk that you may lose all of your initial investment. We advise you to consider whether trading leveraged products is appropriate for you in light of your own personal circumstances. We recommend that you ensure you fully understand all risks involved before trading. Trading through an online platform carries additional risks. Refer to our Regulation section here.
GO TO THE compare brokers